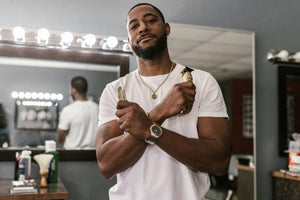 Every man needs to know a trustworthy, knowledgeable barber. Having a regular barber guarantees that you'll get a dependable, well-groomed haircut every time you go. Imagine showing up to a new barber just before a crucial job interview. Do you really want a haircut from someone who has never even seen your hair before?

Good barbers have an elephant-like memory. Regular visits to an expert barber will help them become familiar with your hair's complexity and the contours of your head, enabling them to cut and shape your hair exactly how you like it. There is a lot of comfort in being able to show up and request "the usual." Additionally, a competent barber can turn into a buddy you enjoy visiting regularly and with whom you feel comfortable "shooting the breeze".

But, how can a man go about creating this crucial connection and locating a skilled barber? And, how can you tell if a barber is worth keeping? Here are five tips to help you find a professional barber who is the perfect match for you.
#1 – Get Recommendations
The first thing you should do if you're new to the area, dissatisfied with your current barber, or if your current barber is hanging up the clippers or moving away, is to ask people you know, especially those who keep a fresh cut, for advice. Nine times out of ten, they know an excellent barber who they would be more than happy to recommend to you. After asking your friends and acquaintances for barber ideas, look at what the internet has to say. Do a Google search using phrases such as "men's grooming in (your city)" or "barbershops in (your city)" and read the reviews left by others. You'd be surprised how many people will leave an honest review of their experience, and you might even gain insight into a specific barber you want to try.
#2 - Test Out Promising Barbers
Once you've narrowed down your search and selected a barber to try out, schedule an appointment. Five stars and excellent reviews are a good sign, but the proof is in the pudding. This is who you will be entrusting with your head, so you want a barber who is totally confident in their ability to create a work of art out of your hair!

When you first enter the shop, you'll likely sit in the chair of the next available barber. However, make a mental note of the pre-cut experience -- how clean was the cut of the guy ahead of you? Is the barber friendly? The barber-to-client experience is just as important as the haircut -- we recommend keeping that in mind!

Once you're in the chair, you want a barber who can firmly advise you on what would suit you the most based on your requests as well as the structure and form of your face. Barbers who lack experience or confidence in their abilities will perform exactly what the client requests, regardless of how awful it may look. To help the customer choose a cut better suited to their face, a skilled barber will have the guts to provide feedback and ideas tactfully. Of course, if the customer insists on having his poor cut, a professional barber will comply.

One obvious way to get a feel for a new barber is to check out their own appearance. How well-groomed are they, personally? Do you trust a poorly groomed barber to deliver the standard of service you're looking for if they are unkempt themselves? How do they dress – clean and professional? A barber's haircuts likely reflect that same level of attention to detail. Remember, a barber's job is to work with men to enhance their personal and professional image, and a superb barber takes pride in their own appearance.

The cleanliness and organization of a barbershop are also extremely important. Pay close attention to the floors and walls and how they take care of their barber tools. Feel free to ask them questions about their processes and procedures in this regard as well. The best barbers will be proud to let you know how seriously they take cleanliness and, ultimately, the health of your hair.
#3 – Pay Close Attention To The Questions Your Barber Asks
So you sit down in the barber chair, and the cape is placed over your neck. What are some key questions that barbers will ask you? Well, we know that the first question is going to be, "what are you thinking about getting today?". However, the best barbers will also ask for your input while cutting. Some will will pause while cutting your hair and inquire about your experience. Others will let you check the haircut out in a mirror and ask things like, "do you want to fade a bit higher?" or "should we round out the back?". While these questions do show that the barber is engaged with you as the client, they also ensure that the barber is aligned with you on the haircut you chose. Of course, poor barbers won't ask you for input until they turn you around to face the mirror at the end. At that point, what's done is done, and you'll have to live with what just happened until your next cut.
Related Articles: Mainstream & Modern, Good Looks Never Fade With A Fade Haircut
#4 – Conversation Leads To Trust & Confidence
When you go to a new barber, they are vying to become your go-to person for all your grooming needs. As with hiring any new employee, be sure to do a thorough interview to see whether they are the best candidate for the position. There is not much you can do about a barber's cutting skills, so focus your inquiries on their personality and experience (if the barber's skill meet your standards, of course).

Learn about their experience by asking the barber where they've barbered and for how long. Find a barber who is experienced but be advised that some of the best barbers carry a large workload, and you may have to be more patient when it comes to getting an appointment that works for you. Generally speaking, busy barbers are usually busy for a good reason.

You also want to spend some time getting to know your barber's personality. After all, you'll probably see this person for 30 minutes at least once per month, and potentially more if you visit every week. The friendships seen at barbershops are one of the traditions' draws. A personality conflict between you and the barber might ruin the fun of getting a haircut.

As you get to know your potential new barber, you can make mental notes of any red flags. If they mention things like switching businesses because they didn't get along with the owner or that they have a lot of family issues, you'll have to gauge for yourself whether they seem like someone who will be reliable for you. Barbers with a lot of turmoil in their lives can forget about appointments or arrive late. Fitting your calendar around a barber's personal strife could be more bother than it's worth, even if the barber cuts hair brilliantly. Go with a dependable person.
#5 – Take Your Time
One visit to a new barber is typically not going to be enough for you to commit to a life's worth of haircuts. Even if you believe a new barber meets your needs, you won't be sure until they cut your hair. Understanding before you begin your search for a quality barber that you're looking for a long-term relationship will help you be more patient as you learn about them.

For that reason, there is no need to rush the process. Even if you simply ask the barber for a shape-up, you can get a good idea of their ability and personality after 10 to 15 minutes in the chair (and you won't have to run the risk of getting a bad haircut). Take your time during your visit, and if you walk away feeling unsure one way or the other, book another appointment. Not all barbers are the same, and some may just take a little longer to get to know.
Summary
Finding a reliable barber is a huge relief, particularly for guys who are serious about maintaining their hair. While there are many good barbers out there to choose from, finding the perfect barber match for you can be challenging. Start by asking friends for recommendations and reading reviews, keeping an eye out for the barbershop that seems to attract the most business for all the right reasons. Once you find a barber who focuses on the services you need, clicks with your personality, provides product and maintenance advice, and consistently impresses you with their skills, stick with them and tip them well!