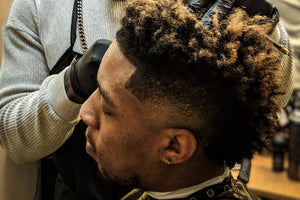 From retro geometric flat tops and close-cropped waves, to creative shapes for dreadlocks and braids, the options for stylish haircuts for men with textured hair have never been more varied. Among them is a diverse assortment of twists on the classic fade cut. While the fade has traditionally been a more masculine, minimalist style, today's fades are inventive, personality-infused creations that vary from subtle to artistic outrageousness.
The fade haircuts we know today have their roots in the military cuts of the 1940s and 50s. It didn't take long for men (and women) to begin experimenting with edgier versions of the fade, but it wasn't until the 1980s, during hip-hop's golden era, that the fade and all its early variations became standard. And, just as the clothing styles and accessories of hip-hop music artists and fans transformed, so did the hairstyles.
Today, fade haircut styles seem to have found a balance between their founding traditions and the flexibility to personalize to any degree. Below are some of the more popular fade haircuts to infuse your palette of options when it's time for yours. 
Taper Fade
For a fade haircut on the "subtle yet sharp" side, consider the taper fade. Tapering is when your hair progressively transitions from one length to another, while fading refers to a gradual change in length from where your hair touches the skin. For a taper fade haircut, your hairstylist or barber will keep your hair a little longer, allowing you a more gradual transition to the shortest hair. As a result, a taper fade has a more classic, mature, clean-cut appearance than other fade types. Longer styles, such as an Afro, can be used with the adaptable taper fade to add more structure and better frame your face.
Drop Fade
A popular variation of the conventional fade cut, the drop fades give your haircut an added flair by including a noticeable arc appearance when viewed from the side. A drop fade's crisp, curving line created by dropping the cut low and behind the ear looks great on any length of naturally curly hair. It is even more striking when worn with an Afro or twists, and some may choose to add a shaved section or line-up for an infusion of character and personality.
Temp Fade
Temp fades, also known as temple fades, are trendy and sharp haircuts, which is why they are among the most popular cuts for men. They work with practically any face shape and hair type and can create a makeover appearance with little to no effort. The temp fade uses a line up or shape up around the temples, which many variations to personalize. From afro temp fades to high or low temp fades, experimentation leads to optimization when it comes to these cuts. What used to be considered a haircut for black men only today transcended race, and you'll find plenty of Hispanic, White, and Asian men sporting the style as well. And for a fresh new perspective on a traditional style, you can always add a temp fade to an Afro, waves, or dreadlocks. Temp fade haircuts even work well with a mohawk.
High Fade
The boldest and most noticeable of the classic fade varieties is a high fade. High fades begin high on the head, above the temples, and provide a cool, crisp, and masculine impression. They also lengthen your face, making them an excellent choice for men with round or square-shaped faces. For a contemporary twist on an '80s classic, use a high fade with a flat top. Alternatively, a high fade can be used to form dreadlocks or an Afro.
Mid Fade
Mid fades, often known as an "all-rounder" cut, fall somewhere between a low fade cut and a temp fade. They have a more pronounced contrast between the long hair and the short areas than other fade types, giving them a semi-undercut appearance. As a result, a mid fade works well with equally defined haircuts like a shaved part or line-up. If you are looking for a way to modernize your mohawk, the mid fade is the perfect solution.
Low Fade
A low fade begins just above your ears and extends all the way down to your neck. One of the most versatile of the fade haircuts, the low fade is perfect for those searching for a more subtle yet stylish and classy hairstyle. A modest fade is an excellent place to start if you've never attempted a fade before. Low fades, which provide modest contour and structure to shorter styles like cropped curls, look fantastic.
Short Fade
A short hair fade is great for men who prefer a clean, minimalist style. The short fade resembles a high-and-tight, crew cut, or buzz cut haircut. A short fade has a militaristic, masculine feel and is a fantastic choice if you want a look that doesn't require any additional styling. Short fades, on the other hand, must be maintained more frequently than longer fades in order to keep sharp and clean.
Bald Fade
A skin fade, often known as a bald fade, is a bold and dramatic alternative to other types of fade haircuts. Combining a bald fade with a shape up is a terrific option for guys with textured hair. Your features, notably your jawline and cheekbones, will appear sharper because of the clean lines and definition. The bald fade is a "macho style" that doesn't require any additional styling. A bald fade can also be contrasted with a lengthier style, such as twists, to add attitude and structure. A bald fade may also taper down to entirely shaved skin. As a result, it necessitates more maintenance than other fade styles, implying more trips to the barbershop to keep your hair looking crisp. The extra effort, though, is well worth it. Bald fades are adaptable in addition to looking crisp, clean, trendy, and masculine, and can be worn with trimmed hair or contrasted with a longer style, such as an Afro.
Curly Fade
A curly fade haircut is a terrific choice if you're growing out your hair. The curled top part contrasts with the faded sides, adding structure and definition. Your barber or stylist can also modify your hairline to complement your curly fade and represent your personal style. A common choice is a straight line-up with curved sides, which stands out from the crowd and combines your beard, hairline, and fade naturally and seamlessly.
Afro Fade
To give your Afro a modern makeover, consider adding a fade. This will give your hair more structure and definition, as well as an updated appearance. Haircuts with shorter sides flatter all face shapes, so combine your natural Afro with a bald fade for a stunning style that lengthens your face, or a low fade for a subtly contoured look.
Fade Haircuts With Designs & Patterns
Hair designs and patterns are an excellent way to individualize your fade haircut and achieve a one-of-a-kind look with personality that will make you stand out from the crowd. Fades go well with designs and patterns because your barber can use the fade's gradient to create depth and shadow. The possibilities are unlimited, from simple geometric patterns to lines, logos, stars, feathers, leaves, or virtually anything you can dream up!
Line + Fade Haircut
Try adding a line to your fade hairstyle to take it to the next level. The line gives a disjointed look that immediately grabs attention, similar to a razored parting. Request that the barber places the line (or lines) in the same direction as your fade. The line should be straight for a standard fade, whereas a drop fade or burst fade looks better with a curved line that follows the arc of the fade.
Fade Mohawk Haircut
Mohawks first gained popularity during the punk era in the 1970s. Because it has natural volume and can stand tall without product, textured hair is ideal for a mohawk fade. A high fade is added to the more current form of the cut to create an easy-to-wear haircut with all of the original mohawk's attitude.
Burst Fade
The burst fade, like the drop fade, is rounded on the sides. The line of a burst fade haircut, on the other hand, curves in a different arc, giving the impression that it is exploding out from the ear. The burst fade is for the bold who love a personalized cut that invites attention.
Waves With A Fade Haircut
Waves with a fade cut offer an ever-popular, adaptable appearance. This timeless cut will attract just the correct number of turned heads drawn to its classic yet unique aesthetic. Combine your cut with a high fade for a unique twist on waves; the haircut looks lively and individualized because of the contrast between the short sides and wavy top part. The result is comparable to the 180 waves haircut, which features a wavy top portion and buzzed sides.
Fade with a Flat Top
The fade with a flat top, often known as a box fade, is a modern take on the classic cuts of the 1980s and early 1990s. A contemporary contrast is created by a high skin fade, which serves to emphasize the flat top's vertical height. The cut is not for the timid since it definitely makes a statement and is more difficult to achieve than other fade hairstyles because it has a distinct vibe that's both old and current.