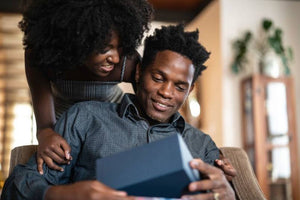 Choosing a holiday gift for the men in your life can be tricky. Sure, you can gift the traditional trendy tie, fancy socks, or bottle of cologne. But, for the men in your life who care about their health and appearance, why not give them something they can use and feel good about? Gifts that support a healthy self-care routine are memorable and always appreciated!
To help you give the perfect holiday gift to the men who mean the most to you, we've created a list of the best holiday grooming gifts of 2022. Whether they be for his body, beard, hair (or bald head), grooming gifts send a message of genuine care and help him step up his routine. This season, gift him the tools that will boost his confidence and give him a swagger that will set the stage for an awesome 2023!
Manscaping Gifts
Manscaping is essentially the grooming (or removal) of any undesirable hair on a man's body. However, it's not as simple as just picking a razor from the bathroom and starting to shave. Guys who shave their chest with razors, especially for the first few times, invariably grumble about how dreadful it was. They may suffer from accidental cuts and rashes, often in delicate areas whose damage can worsen if using the wrong tools.
From nose and ear trimmers to body hair groomers, these are the best holiday manscaping gifts of 2022:
Philips Norelco BG7040/42 Bodygroom Series 7000 Showerproof Body Trimmer
Thanks to its unique dual-sided design, the Philips Norelco BG7040/42 Bodygroom Series 7000 Trimmer is built to shave or trim any length of hair in all body zones, even the most delicate ones. It can be used wet or dry, and with its five adjustable lengths and ergonomic grip, it provides a wide range of styling and comfort options. With a short one-hour charge to its powerful lithium battery, you'll have eighty minutes of controlled, accurate trimming.
Caliber .50 Cal High Speed Magnetic Cordless Clipper
Arguably the best heavy-duty body hair trimmer on the market, the Caliber .50 Cal High Speed Magnetic Cordless Clipper is the perfect gift for men with thick body hair or who have a lot of hair to remove. Caliber's magnetic motor is more powerful than a rotary motor, the kind of motor found in many other body-hair trimmers. Given its power, you might expect the battery life to be limited, but that is simply not the case. This Caliber cordless clipper has a battery life of five to six hours of use between charges.
Groom Mate Stainless Steel Nose & Ear Hair Trimmer
While most electric trimmers can handle the majority of manscaping tasks, some regions, like the nose, call for specialized equipment. The Groom Mate Stainless Steel Nose & Ear Hair Trimmer is non-electric, meaning all you have to do is put it in your nostril and twist the base back and forth – no batteries! Its stainless-steel construction is built for durability and will last significantly longer (forever, the company claims) than those that come with batteries and a complicated power system. That also means that the only maintenance required is an occasional water rinse.
Gifts For The Bald Or Shaven Heads
Trying to buy a holiday gift for your favorite bald guy? Keep his hairless noggin healthy and appealing with these practical (and sometimes entertaining) gift recommendations:
MANTL Invisible Daily SPF 30
MANTL, a relatively new participant in the bald man's skincare market, has quickly earned a resoundingly positive reputation. Their MANTL Invisible Daily SPF 30 is a terrific gift or stocking stuffer, and for around $27 for a 98ml bottle, it's also an excellent value.
It leaves your skin moisturized and protected while being entirely transparent. And don't worry about leaving behind a sticky film when applied; there's no shine or residue at all. Any man would appreciate this thoughtful, high-end gift.
HeadBlade ATX Head Razor
Who needs an all-terrain head shaver with all-terrain tires and a car-shaped handle? Any man who grooms their naked head, that's who! The fun and functional HeadBlade ATX Head Razor is made exclusively for shaving heads. Combining modern, multi-blade technology with flow-through design, he will be able to "drive" to every corner and crevice on his head for a fast, easy, and efficient head shave.
Bee Bald Heal Post-Shave Healing Balm
If the bald guy your considering while reading this struggles with post-shave pimples or irritating rashes, look no further. Bee Bald Heal Post-Shave Healing Balm effectively treats pimples and sore skin while calming and soothing immediately after applying. With its all-natural ingredients and botanicals, it can also speed up the healing of razor burn and aid in restoring the natural balance of your skin.
Wahl 5-Star Balding 8110 Clipper
A good pair of clippers are essential in maintaining a shaved head. The Wahl 5-Star Balding 8110 Clipper is one of the best balding clippers on the market. This professional grade clipper and its #2105 blade makes a surgically close cut fast and effortless. The super-charged electromagnetic motor cuts twice as fast as clippers with pivot motors.
Along with a blade guard to protect your clipper blade, it also comes with two clipper brushes to clean the clipper of stray hairs and other debris. Blade oil, which helps keep your blades from rusting and increases their lifespan, and a flexible style comb perfect for trimming and cutting all types of hair, is also included.
Caring For Your Hair Gifts
Maybe he consistently has good hair days, or perhaps he has too few. Either way, fellas with hair care routines are top tier! So what could make a better gift than something that enhances or jumpstarts a routine?! Here are three holiday hair care gifts that are highly celebrated:
Core Hair Care Kit
The perfect gift-giving set for your guy is an exceptional hydrating shampoo and conditioner. Zenore's Core Hair Care Kit includes a moisturizing shampoo for optimum cleansing and intense rehydration, and a matching moisturizing conditioner for nourishing follicles and stimulating growth. No longer does he have to put up with a dry scalp when your gift upgrades his hair care routine! The citrus smelling moisturizing shampoo is mild and foamy, and infused with oils to keep the hair hydrated and manageable. The vegan-friendly moisturizing conditioner promotes hair growth and leaves hair healthy and hydrated.
Daily Hair Moisturizer
Do the fellas in your life have dry and brittle hair? Zenore's Daily Hair Moisturizer is not only vegan-friendly and will instantly soothe and hydrate his hair from root to end, but also promotes hair growth. Infused with babassu oil, shea butter, mango butter, and monoi butter, Daily Hair Moisturizer can be applied to dry or damp hair and leaves a creamy, nutty aroma.
Curl & Style Cream
Created with the "man on the go" in mind, Zenore's Curl & Style Cream is an essential holiday gift item. The specially formulated ingredients prevent the "crunchy" sensation and residue typical of other styling creams while enhancing your curl pattern. Curl & Style Cream is vegan-friendly, locks in moisture, and offers a strong hold for long-lasting styling. The cream has a mango and papaya scent and is infused with bergamot, wheat protein, mango, tangerine, and butter. It's 8-ounce size is perfect for traveling.
Caring For Your Beard Gifts
It has been said that a man without a beard is like a lion without a mane. Of course, we believe men both with and without beards equally possess lion-like qualities. In fact, we also know that lions use their rough tongues to keep their manes clean and healthy. However, even lion-like men prefer more modern methods of hair care. If you have a bearded man in your life and want to save on the wear and tear of their tongue, we highly recommend these gifts:
Beard Wash
It's never a good idea to use ordinary shampoo on a beard. It not only makes your skin itchy and flaky, but deprives your beard of essential natural oils. To keep your face hydrated without removing beneficial elements, upgrade his grooming practice with the gift of Zenore's ultra-moisturizing Beard Wash. It's sulfate-free, vegan-friendly, and gently lathers and cleans the beard while keeping moisture in the hair. Beard Wash from Zenore contains green tea extract, sea kelp extract, broccoli seed oil, ginger root extract, eucalyptus, and bergamot.
Beard Leave-In Conditioner
Zenore's Beard Leave-In Conditioner is specially formulated to keep beards looking and smelling amazing around-the-clock. Designed to tame the unruliest of dry beards, this daily use conditioner softens as it moisturizes, leaving a flawless, eucalyptus and bergamot-scented beard.
Beard Oil
Put an end to his brittle beard with Zenore's thoughtfully prepared Beard Oil. Our beard oil contains a ton of essential oils like eucalyptus and rosemary. His beard will look fresh, soft, and manageable all day, every day, after only one use. Scented with mint, eucalyptus, and rosemary, they'll also have the best smelling beard ever! Beard Oil from Zenore also contains peppermint, hemp seed oil, baobab oil, and broccoli seed oil.
Face/Beard Trimming Gifts
Does he need a little nudge to help maintain his face and beard grooming habits? Keep it simple and consider this:
Philips Norelco All-In-One Groomer
Most men would prefer to own as few devices as it takes to care for their face and beard. The Philips Norelco All-In-One Groomer comes with a variety of heads and guards, all of which can interestingly detail your scruff. With a washable trimmer and heads for your beard, mustache, nose hairs, and even your eyebrows, this Philips package is THE kit to buy this holiday season. Some of its heads work to make precise lines, while others spot-check hairs in challenging-to-clean areas (i.e. right under the nose).