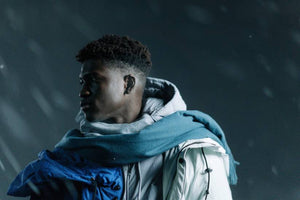 From shoveling snow and driving on icy roads to shortened daylight hours and paying higher heating bills, the winter months can make day-to-day life challenging. For those who live in a part of the country with distinct, separate seasons, dry, cold air can extend those challenges to how to care for your hair. In fact, prolonged exposure to extreme cold causes hair to lose moisture, which leads to hair that is brittle, flaky, and dry.
For those of us with textured hair, we are particularly prone to dry hair in the winter. But dry, flakey scalps and dull, lifeless winter hair can be combatted with a combination of moisturizing products and a few easy haircare routine changes. Look no further if you're tired of winter wreaking havoc on your dome – here are 12 ways to avoid dry hair this winter:
#1 – Make A Material Change
It goes without saying that wearing a hat during the winter can protect your hair from moisture-robbing environmental elements. Still, it is equally important to pay attention to what material your hat is made of. Because wool, cotton, and other materials can result in breakage, make sure your hat is lined with silk or satin. You can even use a dry oil spray under your hat to prevent static electricity. Dry oils, which contain natural oils that nourish hair and restore its luster, are also ideal for styling.
#2 – Protective Styling
The ends of your hair are delicate. When they dry out, they become extremely vulnerable to the environment and can easily split when brushing up against harsh fabrics. Protective hairstyles allow you to still show off your mane and personal style despite the harshness of winter. They also require less manipulation and can last up to six weeks which, for many folks, means spending less time styling your hair!
The ideal protective hairstyles cover your hair ends, so when deciding on a style, be sure to keep that in mind. They should also protect the edges of your hair, so if braiding and twisting are included, be sure that the style doesn't pull hair too tightly at the root. Doing so can cause traction alopecia and other conditions that may cause permanent hair loss.
Related Article: Do Braids And Dreadlocks Create A Receding/Thinning Hairline?
To keep your hair damage-free and looking good in the winter, consider some of these protective hairstyles:
Two-Strand Twists

Twists never lose their sense of cool, but they can also be styled in a variety of ways. You can pull your twists into a ponytail, man bun, or even a half-up style.

Braids/Cornrows

Cornrows are classic because they've been around forever and work on almost any length of hair. As long as you keep your braids moisturized, this super sleek style will get you through the winter looking like the rock star you are!

Man-Bun

Man-buns have become very trendy as of late. Some men even combine the style with a crisp fade for added flare and a personalized twist.
#3 – Moisturize
Winter air removes what your hair (and skin, by the way!) needs most – moisture. This makes it the ideal time to start using products with hydrating natural ingredients. To help hydrate and prevent dry, frizzy hair, only use hair products that are sulfate-free and have hydrating components like keratin, argan oil, and mongongo oil. These oils, and others like them, will go a long way in treating a dry, itchy scalp with hair that easily splits and breaks off. You can also provide extra protection by adding a deep conditioning hair treatment once a week to replenish moisture.
If you have minimal dryness or simply want some proactive prevention, apply a few drops of sweet almond oil to the ends of your hair each day. You'll be surprised at how quickly your hair feels rejuvenated, and as long as you continue the routine, your hair will remain soft, lustrous, and protected from breakage. Applying a stronger oil treatment to your hair and scalp, letting it absorb for approximately 30 minutes or so before washing, is advised if you have more severe dandruff or flakiness. This will hydrate your hair and provide an immediate remedy for flakiness.
Related Article: Debunking The Difference Between Dandruff & Dry Scalp
Applying an overnight hair mask also works wonders for restoring moisture. Before blow-drying your hair, slather in a natural, light argan or jojoba oil while it's still damp. This protects your hair from direct exposure to the weather. To keep your hair from feeling greasy, be sparing in how much you apply and concentrate on the ends rather than the roots. If your hair still feels greasy after using the oil, wash it with an ultra-hydrating shampoo and conditioner.
#4 – Limit Heat
Although you've probably been warned about heat damaging your hair before, it becomes much more relevant when the weather gets colder. Because the heat from standard hair tools such as hair dryers, straighteners, and curling irons can dry out your hair and scalp and increase the likelihood of breakage, it's crucial to restrict their use. You can also try using some of the many heat-free styling techniques available.
#5 – Wash Less
Overwashing depletes your hair of the natural oils that keep it moisturized and healthy, oils that are essential during the drier winter months. If you are someone who over-washes during the warmer months of the year, let this be a reminder that over-washing in the winter months will be much less forgiving. Besides, you'll gain extra morning time on the days you skip washing!
But you will need to determine precisely what "over-washing" means for you. It's a personal decision that will vary from person to person, and it will take some trial and error to figure out. If you sense dryness after washing once a week, try decreasing it to once every two weeks instead. If you're having trouble, there are many excellent dry shampoos for natural hair that can support you in between washes.
#6 – Use A Humidifier
Your home's air becomes extremely dry due to indoor heating, robbing your hair of moisture. Use a humidifier to keep the air hydrated and maintain the luster of your hair. Used consistently, humidified air will keep your hair moisturized, healthy, and itch-free.
#7 – Use A Cool Water Rinse
When it's cold outside, taking a scalding hot shower may sound tempting, but the hotter the water, the drier it is for skin and hair. If you want to do right by your hair and scalp, resist that temptation and use the coldest water you can tolerate to rinse out shampoo and conditioner. The cool water shocks your hair's cuticle, the outer layer of cells that protect the inner layers, and gives your hair a lustrous shine. Most importantly, it also regulates the moisture of the underlying cortex, maintaining the elasticity and balance of hydration in your hair. Exposure to the elements can lift the cuticle and upset this equilibrium, which is what causes your hair to become dry and brittle.
#8 - Towels Matter
After showering, choose a microfiber towel or old t-shirt rather than your go-to terry cloth towel to dry your hair. Compared to traditional cotton towels, the microfiber choice is gentler on the hair cuticle, helps keep your scalp from being too dry, and absorbs excess moisture more quickly. As a result, drying takes less time, reduces the amount of heat on your hair, and causes fewer split ends and breakages.
#9 – Fight Dry Hair Static Electricity With A Dryer Sheet
Those fine hair strands magically lifting from your scalp, resembling a botched science experiment, are a telltale sign that your hair is in winter dryness crisis mode. Carrying a basic anti-static laundry dryer sheet with you is a temporary solution to prevent a static party on your head. Simply rub the sheet across your hair and watch all those flyaway strands disappear!
#10 – Get Regular Haircuts
Maintaining a regular schedule for haircuts and shape-ups is an often-forgotten strategy to protect hair during the winter. Although it may sound counterintuitive, it's important to remember that even during warmer months, your hair is more prone to split ends and breaking as it grows longer. Visiting your go-to barber on a regular cadence will keep your ends from fraying, which could damage the rest of the hair shaft.
#11 – Never Leave Home With Wet Hair
If you've heard this one before, rest assured it's not just a myth; leaving the house with wet hair in the winter can be very damaging to your hair. Of course, we all have days when it may be unavoidable, but if you're serious about avoiding dry hair and all that comes with it, stay indoors until your hair is completely dry. Not doing so can easily result in dry, damaged hair with split ends that break off, even at the root.
#12 – Eat Healthy
Never forget that attractiveness begins from the inside; specifically, the nutrition you give your body may significantly impact your hair's health. Because dry winter hair requires essential nutrients to stay healthy and hydrated, you should pay close attention to what you're feeding it! Not sure which foods are best for your hair? Here are a few examples to get you pointed in the right direction:
Salmon: Omega-3 fatty acids, primarily found in fish oils, are essential for healthy hair that looks and feels great. Essential omega-3 fatty acids regulate an irritated, dry, or itchy scalp and hydrate your scalp. Vegetarians can still obtain these nutrients by eating nuts and seeds such as flaxseeds, pumpkin seeds, and walnuts and by taking fish oil supplements.
Sweet Potatoes: Your hair needs vitamin A to produce sebum, the oil that functions as the hair's natural conditioner. One baked or roasted sweet potato contains more vitamin A than you need for an entire day. If you're not a fan of sweet potatoes, you can also eat other winter root vegetables, especially carotenoids like carrots and pumpkin, which also contain vitamin A.
Eggs: Eggs are a great source of biotin (a.k.a. vitamin B7). They also provide a significant supply of protein. Biotin aids in the body's production of keratin, a protein necessary to grow strong, healthy hair and nails. It's worth noting that eggs may also be used as a part of an egg yolk hair mask to strengthen your strands and nourish your hair and scalp. Depending on the length of your hair, beat two to three egg yolks and apply them evenly on the scalp and top of the hair. Then let it sit for 10 to 15 minutes and finish by washing it as you normally would with shampoo and conditioner.
Citrus Fruits: Vitamin C is a potent antioxidant that helps the body absorb iron, another element that promotes hair growth. Grapefruits, oranges, and limes are at their peak in the winter, but broccoli, kiwi, and strawberries are other good sources of vitamin C.
Beans and whole grains: You probably already consume a lot of zinc, selenium, and copper in your diet without even realizing it. Zinc, which can be found in plant-based protein sources like kidney beans and chickpeas, and copper, which can be found in whole grains like quinoa and brown rice, are particularly crucial for preserving healthy hair follicles. Some beans also contain selenium, which produces an enzyme that can help shield hair from environmental toxins.
Related Article: Food For Thought: A Look At The Relationship Between Foods & Hair
Summary
Since seasonality deeply impacts the health of our hair, it's imperative to learn how to care for your hair based on the season you're in. By considering the tips we've outlined above, you'll definitely ensure a healthy head of hair as you continue to brave the winter. Who knows -- you may be pleasantly surprised at the growth you've experienced by the time the Spring rolls around!