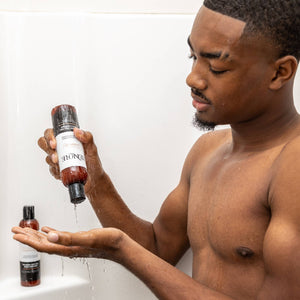 Moisturizing Shampoo
Has your hair been feeling dry no matter what you do? Then, it's time to take care of those hair follicles with our extra gentle cleanser! Our moisturizing shampoo doesn't just wash away old products; it strengthens and restores your roots too! With its soothing formula and nutrient-rich ingredients, you can finally start looking forward to wash day.

Product Highlights:
A vegan-friendly, gentle foaming oil-infused shampoo that helps stimulate hair follicles and provides enhanced control.
Scented with citrus.
If the lather is light, don't worry! Our natural ingredients are still at work. To further activate the lather, apply more water to your hair.

For further information on the "science" behind shampoo lather and why it isn't as vital to the cleaning process as some may think, check out this great read on the "impact" of shampoo lather!